City of Erlangen

Ute Klier

Rathausplatz 1
D-91052 Erlangen

Tel: +49 9131 86-2589
Fax: +49 9131 86-2995

City of Erlangen

Medical engineering has a long tradition in Erlangen. Today it is also a main pillar which is considered to be the foundation for a successful future. Erlangen is well known in Germany as a leading medical innovator, having created ether anesthesia, the X-ray machine, and the surgery simulator.

For optimal support of product innovations, the City still plays a decisive role as a moderator by expanding the close cooperation between industry and science via the establishment of new contacts and forums. Erlangen AG was founded in 2005 by the main shareholders, Siemens AG, Friedrich-Alexander-Universitaet Erlangen-Nuernberg (FAU), and the City of Erlangen who initiated a stock company to effectively and sustainably position the location of science and economics Erlangen.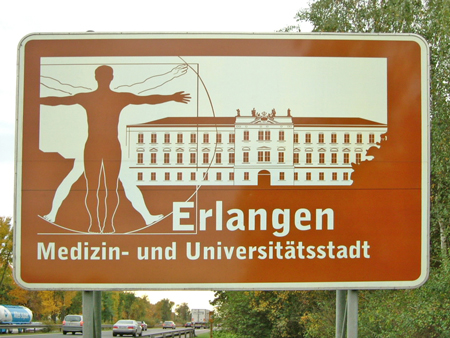 The pre-existing networking activities also include entrepreneurs who come to take advantage of the excellent settings that where also established by the Innovation Centre for Medical Technology and Pharmaceuticals (IZMP) which was founded in 2003.

Aside from the university, the board of trade and industry and Siemens Healthcare, the City of Erlangen is also a founding member of the group "Medical Valley EMN". Its goal is the promotion of metropolitan area as Germany's leading center in the field of healthcare engineering.

In cooperation with FAU, a joint doctoral program for healthcare engineering will be established. The aim is to qualify excellent engineers for work in a transcultural industrial context. This eight semesters lasting program includes international industrial research stays in cooperation with Siemens AG. It addresses excellent graduates at selected partner universities in Germany, USA and China.